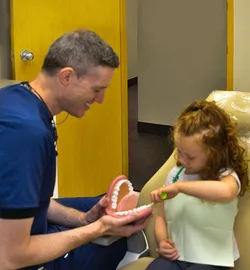 Dr. Michael Bernard has practiced in Beaumont, Alberta since August of 2001, heading a team with deep roots in the community.

Dr. Bernard studied at the University of Alberta where he received a Bachelor of Science degree and later his Doctor of Dental Surgery degree.

On graduation he received the Community Dentistry and Dental Public Health Award from The American Association of Public Health Dentistry.

He maintains memberships in the Edmonton and District Dental Society, the Alberta Dental Association and College, and the Canadian Dental Association.

He continues to participate regularly in dental courses covering a wide range of subjects.

Dr. Bernard and his team of Registered Dental Hygenists and Assistants look forward to welcoming you as a patient or seeing you again for your regular check-up.